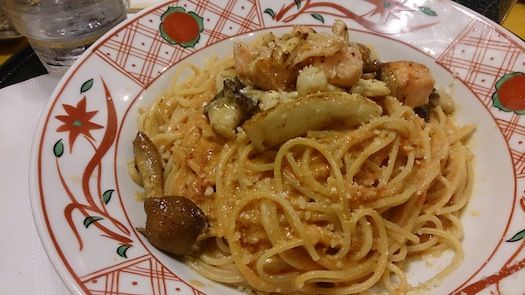 http://www.yomenya-goemon.com/
http://tabelog.com/kanagawa/A1401/A140101/14003755/
A famous Japanese pasta shop GOEMON where u eat spaghetti with chopsticks.
Very hard to choose from their menu coz there are too much choices.
So, I ordered their Autumn special menu.
Salmon and various kind mushrooms with tomato cream.
(サーモンといろいろきのこのトマトクリーム)
人気のトマトクリームにバターソテーしたサーモンと4種のきのこをトッピングしました。濃厚なトマトクリームとマッチしたサーモンとしゃきしゃきのきのこの味わいをお楽しみ下さい。
The portion is large. And the sauce was nice.
Four kinds of mushrooms inside.
A bit pricy (around 1,100yen) but worth the price.
I noticed that most of the customers are ladies when I was having in the restaurant.
They also have franchise at Singapore. Hehe.