I just came back from Genting~ I went there with my dar-dar, jieying and my dar-dar's IBT frens~
Actually this trip is organized by my dar-dar's fren~but i asked jieying to come along. Luckily, dar-dar frens are nice and friendly~
We had a great time together, chit-chatting and playing crazily. I had some new experience to share with you all.
XXX Stay in Apartment Ria XXX
Many rumours sayed that Apartment Ria is the most "vigourous" place in Genting with many "brothers" staying there. ("Brothers"= ghost)
We didn't know that we will be staying at Apartment Ria at first co'z my dar-dar's fren get the free room by Genting Card redemption.
We thought we will be staying at Awana...but when we get to Awana , the management said our room is at "Awana Ria"...
There is no "Awana Ria" man~ it's Pangsapuri Ria...
Huhu~seems like we have been scammed by the hotel...
Something happened at the lobby~ While waiting for the check-in procedure, i stood in front of a control room~ and peeped into the room...
There was no one in the room~ when i walked closer to the door~the closing door suddenly bang by itself. I feel chilled for a while...
maybe there is "something" around~ so i chose to walk away before any bad things happened.
XXX I had the worst cheesecake in Genting XXX
After checked in into apartment, we went to casino. We just look around in casino without gambling~ I knew that i don't have luck in gambling,..
Then, I had my tea-time in Starbucks with dar-dar and Jieying. We ordered a slice of American baked cheesecake and Tiramisu.
The tiramisu taste nice but the cheesecake is not fresh, a part of it is dry and hard. This is the worst cheesecake i ever tasted.
huhu~ Maybe i was quite unlucky....
XXX The guard in front of casino checked my IC XXX
I am 22years old now. The legal age to enter casino is 21 years old. When we wanted to enter the casiono, the guard stopped us and asked us to shoe him our IC.
This means that we looks like under 21years old. Haha~ We were very happy...We are still young...
XXX I drunk for the 1st time in my life XXX
After dinner, we went back to our apartment and had a bath.
Then 11 of us gathered in the living room and started to tase the liquor that they brought.
I had 2 cups of red wine and 2 cups of cocktail...after that we played card games~ the person who get the smallest or biggest number would have to drink the cup of liquor on the center of the table.
Players can add any drinks that they like,which are ABSOLUT 40%, red wine, sprite or cocal-cola....huhu~
I was so unlucy, i always had to drink it....After drank 3-4cups (1 small cup) of it, i started to drunk and talk a lot~
I don't really have much memory on this part coz i really drunk. I just have 10% of conciuousness when i throwed out. Haha~ Then i had a nice sleep until 8am...
Luckily i don't feel any headache or not feeling well in the morning.
XXX Ghost story XXX
I slept soundly after drunk so i didn't any weird sound in the midnight.
However, jieying heard ppl palying mahjong in the midnite...And 2 of my dar-dar frens heard sound of door opening from the 2nd room but no one came out from the door.
The door is confirmed close tightly...So the door would not possible to open by itself...Maybe there is "something" there~huhuhu~
So scary!! @@
The following day, we checked out from the apartment and went home...
My weekend ended happily~ Have to go back to work 2moro~1 more month internship to go...
This will be a fast month as there will be a lot of public holidays for September~
Random pics taken during the trip~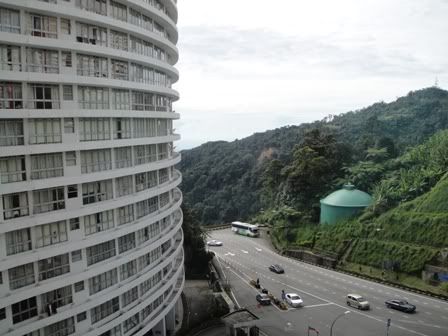 View from the apartment
Living room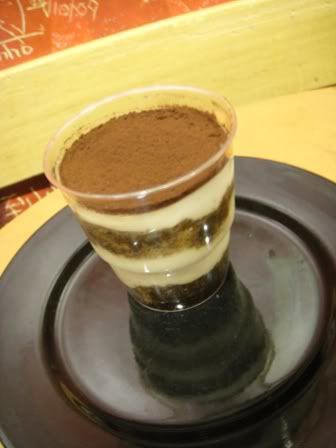 Tiramisu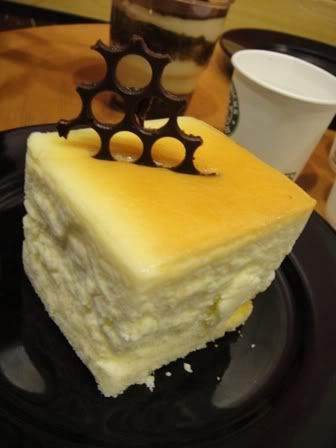 American baked cheesecake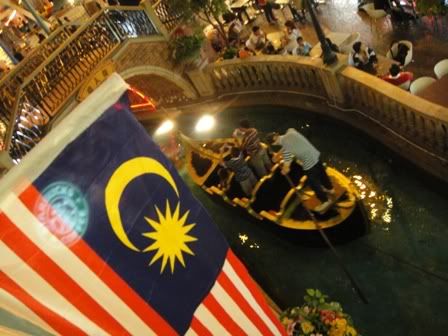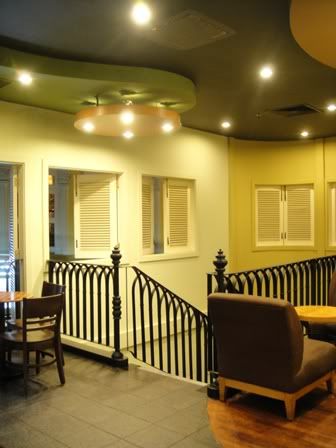 Starbucks