Finally tried Macaron from PIERRE HERMÉ PARIS for the first time in my life. LOL
http://www.pierreherme.co.jp/
Bought half a dozen from their store located at SOGO Yokohama.
303yen for each macaron.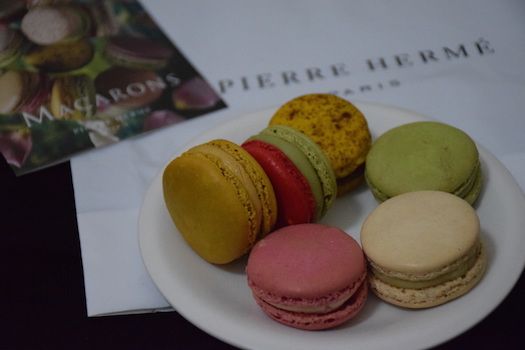 I have no idea what I have ordered actually.
I just simply picked six of them.
Then, back home, I figured out what I have picked.
Infiniment Rose
Infiniment Pistache
Infiniment Caramel
Infiniment Jasmine
Mogador (the yellow one, with brown filling)
Montebello (the red and green)
Among the six, I love the Caramel, Pistache and Rose the most.
I don't really like Mogador - passion fruit flavor. Too sour for me.
I prefer something sweet. Hehe.
Macaron from Pierre Herme is just heavenly awesome.
I wish to eat more. Hehe!
Yeah! I fulfilled my wish in Year 2014 - which is "to have Macaron from Pierre Herme"!
Keep hunting for good food and nice dessert in Year 2015