Today, I went to Tokyo for cafe hopping and Christmas Deco photo shooting.
So, I came across this bakery which is located near the station, just a few minutes walking distance, called Brasserie VIRON.
http://tabelog.com/tokyo/A1302/A130201/13020161/
This bakery uses Retro D'Or flour made by Viron, a French miller, for its bread and sweets. (Seems to be famous in France)
They serve breakfast, lunch, tea time and dinner.
But during lunch time, you cannot pick the pastries and dine in coz they serve different menu. (The lunch time was until 2pm)
So I went into the shop 2.30pm. It was fully occupied at that time since it was a Saturday afternoon.
So, I wrote down my name and queued patiently.
I waited for around 50 minutes to get a seat.
After I secured my seat, I went to the pastries counter to get my food. (Need to queue for another 10 mintues for my turn)
So after total waiting time of one hour, finally I get my food and my coffee.
It was very delicious.
I like their pastries which is not so sweet.
Very European style open air cafe.
Lots of French word which I couldn't understand.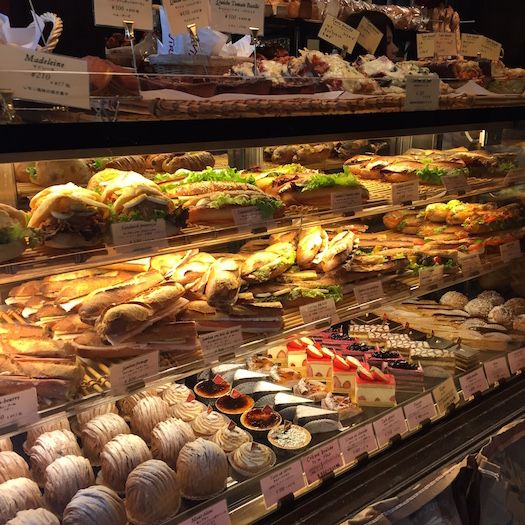 Various kinds of pastries and sandwiches displayed on the counter.
Is that ham? At the bar counter.
Finally, my food is served.
Quite pricy compared to other bakery but it worth the price.
(Around 1,400yen for these)
ショーソン・ナポリタン(Chausson napolitain)
340yen before tax.
Rum raisin and custard. Yummy.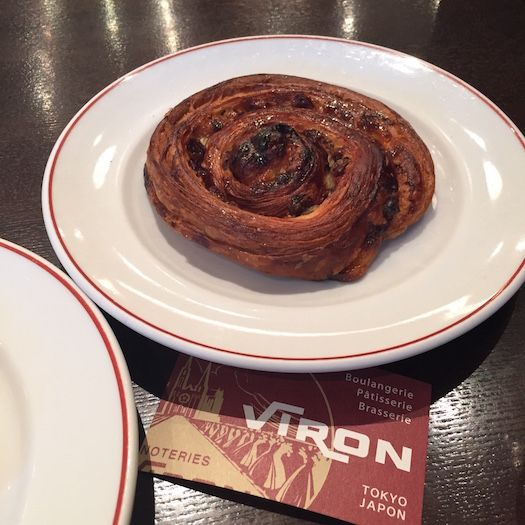 Pain aux raisins
320yen before tax.
Sorry, but I just love raisins so much.
Cappucino was 630yen before tax.
I love this cafe so much.
A nice place to relax.
But it is not a good idea to come during weekend unless you have patience to wait. Hehe.
ADDRESS
2-7-3 Marunouchi,Chiyoda-ku,Tokyo Tokyo Bldg. 1F
BUSINESS HOURS
[Boulangerie, Patisserie] 10:00-21:00
[Bar] 10:00-23:00
[Brasserie] Lunch 11:30-14:00(LO)
Cafe time 14:00-17:30(LO17:00)
Dinner 18:00-23:30(LO22:00)