We went to Sunway for dinner. Dar-dar treated me ramen tonite XD
At first, we wanted to go to Sushi Sanmai but there were a lot of ppl waiting....we have to queue up...
So, we changed our mind and have our dinner at Ajisen Ramen.
I posted some pictures of our food.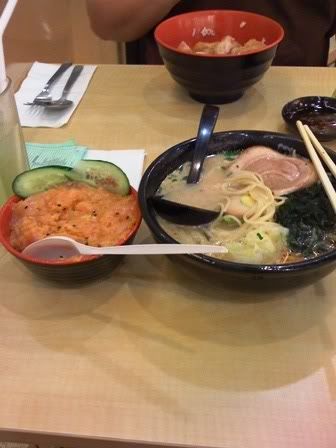 My ramen...the soup is very nice XD
Crispy salmon...not so nice....it's raw salmon~.~
**Student can enjoy 20% discount on food n drinks on weekdays~just show your student ID XD
After dinner, it was too late. Shops are closing. I can't even have window shopping. huhu~.~
Tomorrow is the last working day for this week~Gambatte ^^